Community Outreach
Local residents and businesses rely on us to help secure their financial futures, but our commitment doesn't end there. We believe that in order to build long-lasting relationships with our clients, we also have to serve the local communities in which they live and work. Which is why MassMutual Great Lakes is deeply committed to improving the quality of life in the communities we serve. Here are the organizations we work with to make a difference in our community: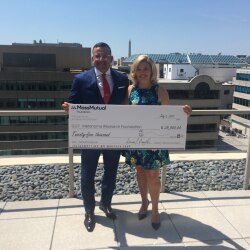 The Melanoma Research Foundation
The Melanoma Research Foundation (MRF) is the largest independent organization devoted to melanoma. Committed to the support of medical research in finding effective treatments and eventually a cure for melanoma, the MRF also educates patients and physicians about prevention, diagnosis and the treatment of melanoma. The MassMutual Great Lakes team are active advocates for the melanoma community, helping to raise awareness of this disease and the need for a cure. In 2019, our President, CEO was the recipient of a $25,000 grant on behalf of the MRF to further research efforts.
---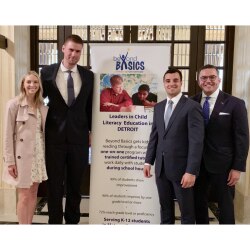 Beyond Basics
Beyond Basics is a child-centered, literacy focused nonprofit organization. They provide one-on-one reading tutoring and literacy enrichment programs for K-12 students and achieve grade level movement in six to twelve weeks. MMGL teamed up with Beyond Basics to host a winter coat drive at the Town Center, receiving over 300 coats for Metropolitan Detroit children as well as partnering with their Literacy Luncheon Fundraiser and Annual Gala. MMGL is a proud partner of Beyond Basics and their efforts to change the destinies of students' lives by helping them to read proficiently - As well as all they do to prepare children for productive, safe and meaningful lives.
---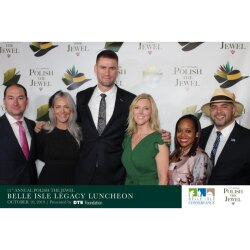 Belle Isle Conservancy – Polish the Jewel
The mission of the Belle Isle Conservancy is to protect, preserve, restore and enhance the natural environment, historic structures and unique character of Belle Isle as a public park for the enjoyment of all – now and forever. Every year, the Belle Isle Conservancy hosts the Polish the Jewel event, to raise funds for renovations. Dressed in their favorite shoes, chapeaus and jewels, more than 400 women and men from across Metro Detroit attend Polish the Jewel to share their favorite memories of Detroit's beloved island gem, as well as raise funds to maintain the park's sparkle. MMGL is proud to support the efforts to rebuild and maintain Detroit's island gem – the Belle Isle Park.
---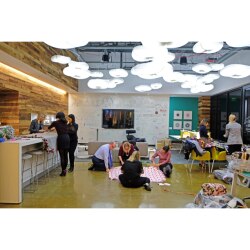 Fleece & Thank You
Fleece & Thank You is dedicated to providing connection, comfort, and hope through its innovative programs, services, and materials to children facing illness and their families supporting them. Their goal is to provide every child facing hospital treatments with a colorful, comfortable fleece blanket and a video message of support from its maker. MMGL helped Fleece and Thank You set a Guinness World Record of the most tie blankets created in under 8 hours.
---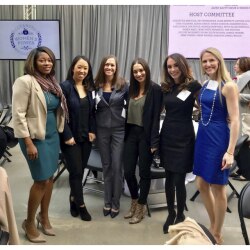 Gleaners
Gleaners exists to provide households with access to sufficient, nutritious food, and related resources. They accomplish this through collaboration, efficient operations, education, and innovative solutions to achieve a hunger-free community in southeast Michigan. The MMGL team helps to support their efforts by volunteering our time to sort food donations at the distribution centers and attend fundraising events through the year.
---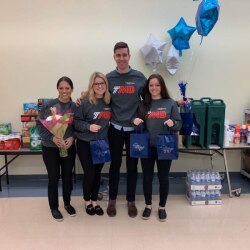 City Year
City Year Detroit partners with teachers and schools to add more support and to help create learning environments where all students can build on their strengths and fully engage in their learning. MMGL was fortunate enough to "give thanks" back to the educators changing students' lives by hosting a Teacher Appreciation Week celebration for the staff and administrators of Durfee Elementary School in Detroit. We've seen firsthand how their Women's Leadership Breakfast and Red Jacket Gala have contributed to their mission and look forward to the positive impact we can make with City Year in the future.