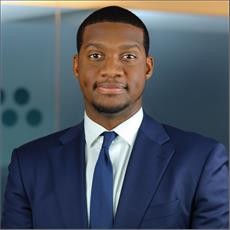 Ty Thorpe
Managing Director & Financial Advisor
Professional Story
Focus Areas
Insurance Strategies, Investment Strategies (Reg. Reps Only)
Biography
Tyrone (Ty) Thorpe didn't have the easiest upbringing. He had to fight obstacles and overcome challenges his entire life. From a young age, he learned that not everything is handed to you on a silver platter.
Raised in a household with two Deaf parents, Ty had to learn ASL (American Sign Language) to communicate with his family regularly. He struggled in school, dropped out of college twice, and suffered from insomnia while working the night shift and attending classes during the day.
Ty always kept himself busy, working 50-60 hours each week while attending school full-time, and though he dropped out twice to focus on his career as a warehouse worker, he knew he wanted more from a career. The desire for more motivated him to return to school and finish his degree.
After battling through 11 years of constant work and schooling, he graduated from Wayne State University with a Bachelor's in Finance, with little to no outside support. He graduated with cum laude honors, one of his proudest achievements.
Upon Ty's 2016 graduation, he immediately began applying for jobs so he could find employment outside the warehouse. Ty had no specific job or career in mind; he needed something to pay the bills.
Through hard work and persistence, he landed an interview at Morgan Stanley with Ian McCulloch. Ty always says, "at first, the industry chose me, then I chose it." If it weren't for Ian, Ty would not be in the financial services industry, and he is forever grateful.
Ty has about six years of financial services experience, where he has obtained the Life and Health licensure in nearly 30 states, along with the securities registrations, and that's only the beginning. He is currently studying for the CERTIFIED FINANCIAL PLANNERTM certification and looks forward to learning and growing more in his career.
Though most of his business comes from life insurance, Ty works with clients on all aspects of financial planning. He calls himself an "integrative financial planner," combining insurance and investments to create a solid financial plan for an individual or family.
Most of Ty's clients consist of medical professionals, such as nurses and physicians, although he is welcoming to anyone with any profession. He enjoys learning more about clients and prospects who are willing to trust his expertise and take their financial planning seriously. Ty's clients are aware of what is important to them and their financial well-being, and he will do everything he can to prioritize creating and sustaining a strong bond with each client.
Ty grew up on Detroit's east side with his parents, older brother, and sister. He now lives in Birmingham with his wife of five years, Alisha, and their two children, Tyden and Airis. Since Ty grew up in a household learning Sign, his mother now teaches her grandchildren so they can all effectively communicate with one another. When he isn't at the office, Ty enjoys spending time with his family, donating to churches, playing the piano, golfing, and bowling with friends.
CRN202510-3209526
Check the background of this investment professional on FINRA's BrokerCheck
MassMutual Great Lakes Office